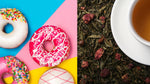 Craving something sweet? Try tea instead.
We all know that it's hard to say no to a pudding after a nice meal or to stay away from the sugary snacks hidden in your cupboard.
How about trying a tea instead? A herbal tea can be your healthy but yummy option when you're craving something sweet. House of Lilah's Enchanted Carousel is an indulgent loose leaf tea that can satisfy any dessert urge, without the extra calories.
But don't just take our word for it, this great review from 'Time For Tea Please' tells you everything you need to know about our candy-like Black Ceylon tea.
https://timeforteaplease.wordpress.com/2020/06/23/house-of-lilah-enchanted-carousel/